LOS ANGELES, CA (PRWEB) APRIL 12, 2016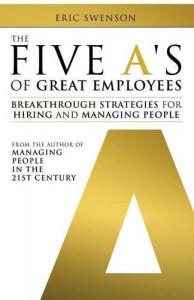 In his second book, a workplace-cultural advisor bushwhacks the old strategies for hiring great employees: "Experience and technical competency no longer matter," he says.
"When it comes to hiring and managing employees, 92 percent of employers have been focusing on the wrong attributes entirely," says Eric Swenson, author of The Five A's of Great Employees. "What employees are capable of doing tomorrow is far more critical than what they have done in the past."
Thanks to massive leaps in technology, says Swenson, every industry experiences a makeover every few years, and this will continue until the end of time.
"Why should employers care what employees have done in the past?"
Instead, Swenson provides employers with five qualities that tomorrow's great employee will have:
1. Agility. Agile employees are willing to take on new assignments that fall outside a person's core competencies.
"If a supervisor throws six things their way, agile employees figure out how to get them all done well," writes Swenson.
2. Attitude. "Fire anyone who has a bad attitude. Period. No leadership technique available will transform a fundamentally negative person into a positive one."
3. Aptitude. Employees who demonstrate aptitude have the ability, capacity, and desire to evolve.
4. Alignment. Hire employees whose character traits and values are aligned with the culture.
"Character is far more important than any skills an employee could bring to your table. I cannot think of a single more important trait an existing or potential employee could have than character. It means doing the right thing, even when doing the right thing is not the most convenient, the least expensive, or the easiest to do."
5. Ability. This is the least important of the five, but certain jobs, such as attorneys, require minimum criteria be met. Once these criteria have been identified, employees should stop focusing on ability and instead focus on the other four qualities.
"Most hiring managers focus solely on experience, to the detriment of all the other intangibles. Companies would be healthier if they hired employees with great attitudes who were aligned and displayed agility and aptitude, but who were possibly less qualified than others."
"If an employer can spend a couple of months developing a person's ability by training him, is it worth it to have an employee who has two, three, five, or ten years of headache-free employment?"
Swenson argues an impassioned "yes."
The Five A's of Great Employees (Wheatmark, 2016) is packed with interview questions employers can use to hire employees who demonstrate agility, attitude, aptitude, alignment, and ability. Swenson says employers should ask tough questions during the
interview so that they find the right employee, which makes managing a lot easier.
And those five words every employer should say during a job interview?
"I need a better answer."
"Don't let employees off the hook with canned answers. Make them give you more information. Asking tough questions during the interview makes managing a lot easier," says Swenson.
###
Eric Swenson is a workplace-cultural advisor with more than twenty-five years of experience. He is the founder of RSJ/Swenson, a human workforce development firm, and a popular speaker. His latest book, The Five A's of Great Employees (Wheatmark, 2016), was made available on Amazon on March 16. For further information, call (818) 461-1874 or e-mail jbaker(at)rsjswenson(dot)com.
Visit http://www.thefiveas.com or http://www.ericwswenson.com