We are always interested in discovering new methods of conducting business, both for ourselves and for our clients. Last Friday, we tested a new method of conducting year-end inventory counts.
One of our clients, an essential business that provides medical equipment, is located in Michigan, and was in need of a year-end inventory attestation. Normally, our audit manager, Amelia Xu, would make a trip to Michigan, visit the client's warehouse, and conduct an inventory count with the client.
But given the restrictions and safety measures necessary due to the coronavirus pandemic and associated lockdowns, travel was out of the question.
This left us in a difficult position: Lacking our own witness who could attest to the inventory count, we could not provide our client with a certified report concluding that the financial statements of the business were accurate
We wanted to avoid this undesirable outcome, so we conducted research, exploring alternative solutions. We developed a protocol and parameters that allowed us to proceed with a virtual inventory observation.
Amelia Facetimed the client in the warehouse, picked the products she wanted to test, and witnessed the client conduct the inventory count.
Fortunately, the warehouse was well-wired.
"The only thing that would stop us from considering this in the future, even in non-pandemic times, would be a warehouse without a strong signal. We will have to make the decision on a case-by-case basis, but virtual inventory walkovers could definitely be used as an alternative when circumstances prevent us from being present physically. " said Amelia, a CPA who has worked for Rose, Snyder & Jacobs LLP since graduating from Indiana University with a master's degree in accounting six years ago.
If your business is in need of creative solutions due to the pandemic, please contact us so that we may be of assistance.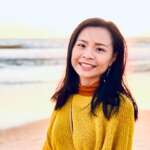 Amelia Xu
818-461-0600