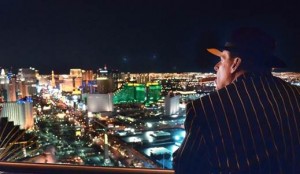 Have you ever walked into a room full of strangers and felt instantly right at home?
If you have, it is most likely thanks to someone there who possessed the innate ability to make everyone feel welcome. Some of the most successful people in business recognize the importance of relationships, and share an ability to connect others. One such person is our longtime friend Mark Wayman — also known as "The Godfather" of Las Vegas. As a successful entrepreneur who places high level executives in the casino, gaming, and tech industries, it's fair to say that Mark is in the business of relationship building by connecting people. For over 15 years his concept of 'having my friends meeting my new friends' has proven to be very successful and entertaining.
"Relationships trump talent every day of the week," says Wayman. "After attending events open to the public for years, and getting solicited non-stop, it occurred I might be able to come up with a better model. So I invited several of my clients with one purpose – for them to meet each other. And with exactly one rule – no soliciting."
For 6+ years, RSJ has been sponsoring Mark's events, known as the Godfather Sit Downs. These events are held in various cities throughout the year and attendance is by invitation only. It brings together a group of individuals from a variety of industries, who are hand selected by Mark to gather for the purpose of getting to know each other. Mark has a unique method – from invitation to implementation – of creating a unique experience to be enjoyed and remembered.
The purpose is not to promote or sell, but rather to get to know interesting people and learn about each other's passions. Each guest is invited to share about who they are and what they are passionate about. What happens during this hour-long speed introduction is both interesting and enjoyable. Smiles and laughter fill the room and by the end of the event, strangers are no more.
Each time we attend a Godfather Sit Down, we meet amazing people who truly become friends. Mark's approach to relationship building and the experience he so carefully plans and provides makes for a great way to meet new individuals Will they become clients? Will they refer clients? We don't know. But we value and are thrilled to make these new connections, and proud to share them in common with our friend Mark. We always walk away from this event with a desire to connect others within our own circle.
What Mark has created with his sit down events is unique and memorable. He facilitates new relationships, while solidifying his reputation as an influencer and connector.
Visit our event section to learn more about this and other RSJ produced events and be sure to sign up for future RSJ events here.