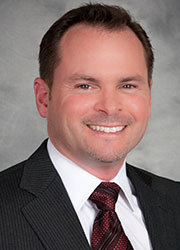 Stephane Vachon oversees the Accounting and Auditing Department and the SEC Practice at Rose, Snyder & Jacobs. He has professional expertise with reorganization plans, feasibility and profitability analyses, and national corporate insolvency practice for financially troubled companies.
He is also a member of the California Society of CPA's Peer Review Committee, which means that in addition to his numerous responsibilities at the RSJ office, he is often found visiting other accounting firms in the LA area conducting Peer Reviews.
What are Peer Reviews, you may ask?  For one, it is a required, periodic outside review of a firm's accounting and auditing practice aimed at helping the firm maintain and improve the quality of its services.  For more information on the process itself, we have the answers straight from our resident expert below.
What is a CPA Peer Review? 
A Peer review is a program that aims to improve the image of CPA firms.  The peer review report is an acknowledgement that the CPA firm produces quality work.  It is performed by another CPA (a peer).   It entails reviewing the accounting and audit practice of a CPA firm.  It then results in a formal report that can be shared with prospective clients.       
What can people expect during a Peer Review?
The peer reviewer will look at your policies and practices and will also look at some of your files.
How are Peer Reviews beneficial?  For each party?
The peer review is educational in nature.  It aims to enhance the accounting profession.  You will get a lot of best practice suggestions. You will also be able to share a "pass" report with prospective clients, which should help you in your marketing efforts.
What inspired or motivated you to become a Peer Reviewer?
My own peer reviewer told me about it.  I am fairly technical and I love to teach and help other fellow CPAs. 
What is the most interesting thing you learned during a Peer Review?
Every firm does things differently.  I learn something from each firm.  I adopt some of their practices in my own firm.  It makes me better.
What are some resources for learning more about Peer Review?
There is a lot of information on the AICPA (http://www.aicpa.org/) and CalCPA (http://www.calcpa.org/) websites.
Why should someone contact you to schedule a Peer Review?
There are a lot of good peer reviewers out there, but there are also some that are not really practical and expect perfection from a firm.  While I need to ensure that CPA firms follow professional standards, I also understand that rules are subject to interpretation.  My approach is more educational and I recognize the concept of professional judgment.  My goal is not to find something wrong.  I am there to make them better.  
   What surprises most people who participate in the process?
What surprises them the most is when I tell them they are doing too much!