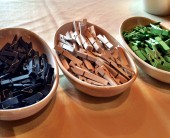 Each time we plan an executive event, we face the challenge of how our guests will get to know each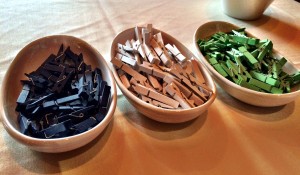 other. Tony, Brian and I like to shy away from traditional name tags, so we are always searching for fresh ideas that will initiate conversations between strangers. For this year's CES Gathering, the stars aligned. We ALL came up with a similar concept that kept our guests guessing and we are thrilled to say it worked wonderfully!
We secretly identified each guest based on the number of times they have attended our CES event. There were three categories: those who've attended every CES event (six in all), those who've attended more than one, and newbies.
Now, we had to find "identifiers" that would work for our event. After a quick trip to the crafts store, we purchased mini clothespins in three colors. They were small enough so as not to be obtrusive, and they really got the conversations going. Most of our guests figured out the green pins (newbies), but the blue and white pins stumped them.
Upon arrival, each guest received a pin and were told only that they had something in common with others wearing the same color pin, and it was up to them to figure out what.
It was a fun way for our guests to mingle and very well-received! We will definitely be playing this game again.