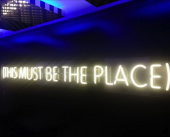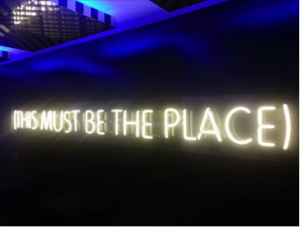 He may call them "Sit Downs", but Mark Wayman's events always have his guests on their toes! Known as "The Godfather of Las Vegas," Mark Wayman has been bringing executives, entrepreneurs, and innovators together for more than six years. Rose, Snyder & Jacobs is thrilled to be one of the Sit Down's oldest sponsors, as we consider Mark to be one of the firm's oldest friends.
Last month's gathering was held in the Lenny Kravitz penthouse of the SLS Las Vegas. While this neon sign may have been a clever greeting when stepping off the elevator, it quickly became the sentiment of every guest at the gathering. Among the attendees were Virginia McDowell (CEO, Isle of Capri), Michael Silberling (CEO, Affinity Gaming), Jeff Solomon (COO, Affinity Gaming), Kelcey Allison (CEO, Aruze Gaming), Lori Ware (CFO, William Hill US), Chris Gibase (CMO/CIO, Boyd Gaming), Tom Dunlap (President, Baha Mar), Sam Basile (CEO, Zitro Gaming), Melissa Price (SVP, Caesars Entertainment), Ryan Hammer (GM, Caesars Entertainment), Josh Swissman (SVP, MGM Resorts) and many, many others.
This "C-studded" line up is not unusual for a Godfather Sit Down. Mark is a truly unique individual with a gift for connecting people. If you have not been to one of his exclusive events (yet), you can glean his words of wisdom on Twitter at @GodfatherWaym.
The Godfather's events are not the only ones that RSJ sponsors. From mixers to round table discussions from Los Angeles to Las Vegas, we believe that when brilliance comes together, amazing things happen! Click here to sign up for our event alerts and be sure to join us at our next gathering.