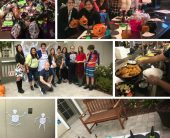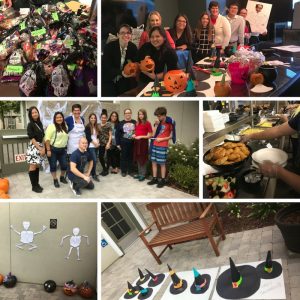 Our new Volunteer Committee was formed just in time for Halloween. The obvious theme choice was to spoil kids with costumes and candy; but we wanted to ensure that we provided a meaningful experience for both our volunteers and the trick-or-treaters.
We decided to partner with the San Fernando Valley Rescue Mission for our Halloween event. They are a local organization right here in the valley with 46 children who are currently guests. Although not all the kids attended, we created personalized goodie bags for each one so that no one felt left out. RSJ volunteers spent the lunch hour on Friday stuffing the goody bags full of candy, glow sticks, erasers, Halloween stickers (regular and scratch and sniff!) and RSJ chapstick, and also carved pumpkins and made Witch Hats so that those who couldn't attend the event over the weekend were still able to participate.
Our Committee Chair Becky Kusen coordinated the event with Christine Gregorchuk, the Program Assistant at the mission. Christine helped us to navigate the policies and guidelines of the mission so that we could ensure our event was both compliant and impactful. For example, guests are not allowed to keep food in their rooms or overnight bins; while we did fill the goody bags with a few pieces of candy, we gave the extra to the mission staff so that they could ensure that parents could give out candy to their kids in case they weren't able to go trick-or-treating.
On the day of the event, RSJ provided a hot, catered brunch to all of the mission guests that our 10 RSJ volunteers served to each guest. We donated Halloween costumes and accessories so that everyone had the perfect costume to haunt Halloween night. A few of our volunteers even did some Halloween themed nail painting for those goblins and ghouls who needed a final touch on their costume.
In planning the activities for the event, an important requirement was the need to be sensitive to the personal space of the guests. Our committee selected games that would allow everyone to participate, that didn't require any of the volunteers to touch the guests. The Witch Hat Ring Toss, Pumpkin Golf, "Mr. Bones" skeleton building relay, and Gourd Hockey were all chosen with this in mind.
Additionally, we also wanted to be sensitive to the waste that any of the games or activities created. For example, it would have been easy to do the "mummy wrap" as a game, but this not only may have been invasive to guests who were sensitive to their personal space, it also would have wasted a dozen or so rolls of toilet paper. We didn't want to come into a place where the guests are being provided the most basic of resources and play games that wasted these resources. In fact, our Gourd Hockey was played with brooms which the Mission then kept for
chores!
It was really a thoughtful event. Not only did it require some of our time and resources as a firm and as individuals, it also challenged us to be intentional, compassionate and considerate of the needs of the guests. At the end of the day, serving others is about putting their needs above your own. So, it was a really rewarding challenge to meet the needs of the guests and re-think some of the typical ways we may have engineered this event.
Update 11-14-16: We were incredibly touched to receive a beautiful thank you card from the staff at the San Fernando Valley Rescue Mission, which included messages written by the families who participated in our event. Although we cannot share the card publicly, we can share this sweet message from the staff.