Get the latest ideas and insights straight from the RSJ team.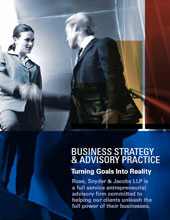 Business Advisory Brochure
In today's turbulent high-risk business environment, it takes more than old-style accounting strategies to deliver on the promise of financial success. To keep your business thriving, it takes new ways to operate. Financially focused business experts like RSJ, combine deep-rooted knowledge with fresh perspective and forward-thinking resourcefulness.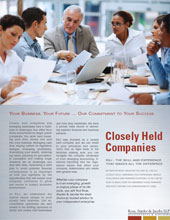 Closely Held Companies Brochure
No matter what industry you are in, like all closely held companies, you experience unique challenges and rewards everyday. At RSJ, we're here to make sure you maximizie those rwards and keep thriving for generations to come.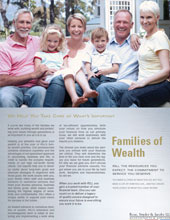 Families of Wealth Brochure
If you're like many of the families we work with, building wealth and protecting your assets through generations is as important to you as it is to us.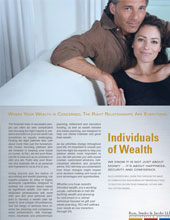 Individuals of Wealth Brochure
The financial lives of successful people can often be very complicated and choosing the right experts to preserve and build on your net worth can sometimes be equally challenging. Finding the right partners who care about more than just the fundamentals means choosing partners who are invested in keeping your future on course. At RSJ, we see your financial life in total and as an extension of who you are. That's why your financial and business life is as personal and important to us as it is to you.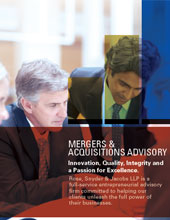 Mergers & Acquisitions Brochure
We know that numbers are only a part of the game plan when it comes to
Mergers & Acquisitions. By expertly aligning our M&A financial services with
your transactional needs, we provide you with the kind of unique interdisciplinary
approach that helps drive value across the deal life cycle. Ranked among
the leading financial M&A advisors, RSJ draws on decades of experience in
sophisticated business and financial markets to deliver integrated strategic and
financial services to our clients.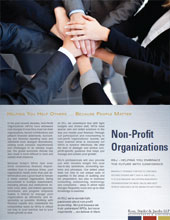 Non-Profit Organizations Brochure
In the past several decades, Non-Profit Organizations (NPOs) have witnessed vast changes in how they must run their organizations, record contributions and present financial statements. Accounting and financial reporting rules and standards have changed dramatically, adding more complex requirements and challenges to an already tough job. The global economic climate has also made it more difficult to fund and sustain their missions.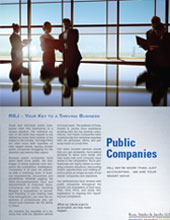 Public Companies Brochure
Small and mid-sized public companies often find themselves in a unique situation. The technical nature of the work they require is not offered by many firms outside of the largest in the country. But large firms too often focus their expertise on their largest clients, leaving smaller public companies struggling for the attention and service they expect.
Women Owned Businesses Brochure
Owning a business isn't an easy walk in the park for anyone, but women often face more challenges and obstacles than their male peers. In fact, women entrepreneurs and business owners are now one of the fastest growing sectors of the corporate world, owning nearly half of the privately held companies in the U.S. Women are playing a key role in both the American and the global economy.