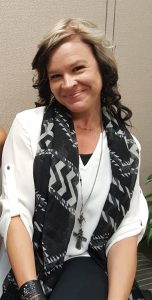 Krystal Usher is a long-time RSJ team member whom we rely on to keep things running smoothly — and to make her fellow employees smile! She is known for infusing her signature sense of humor into meeting recaps, announcements, events and the morning minutes so we wanted to share a little more about the woman behind the quick wit and bright smile.
What is your current job title?  
Executive Assistant  
How long have you been in this role?  
15 years
How long have you been in your current industry?
20 years
What inspired you to follow this path?
My fast typing score in high school…back when they had actual typewriters.  And teachers who could count that fast….
What is your favorite part about your current role?
The people.  I get to laugh every day and help my fellow co-workers get their responsibilities handled and out the door with polish and flair!  I also get to trade digs (and awesome sound effects with our dueling phone apps) with my boss who I can say, without a doubt, gets me like no other boss would.  He hired me from a Daily News ad15 years ago and needless to say, we've grown on each other.  I may even credit a little of my rough sense of humor and thick skin, to him.   So it's a pleasure when I can help take a little bit off his desk, mind, task list, shopping list…whatever it takes.
What has been one of the biggest surprises you encountered in your current position?
I've grown up here, so I'm afraid not much of anything surprises me anymore.
What are some of the biggest industry changes you've observed over the course of your career?
Obviously technology is a big one.  Things are so much faster now, results can be instant, files can be downloaded in seconds, massive documents transferred — safely — in minutes.  But smoking indoors and drinking at lunch time, such a shame those things had to go too.
What is the best piece of advice you ever received?
Tony [Rose] has been my mentor since I came on board and has constantly reminded me how far I've come.  In 15 years, it's hard to pin down just one piece of advice.  But after hanging out so long under his wing, I know that he has taught me to be proud of who I am.  And not just as an employee and a co-worker but as a friend, as a woman, even as a single working mom. He has always helped me be outspoken about what matters to me, passionate about what I feel is right and honest about everything across the board.  No matter what your job, those things can go with you when you leave.
What advice would you have for someone entering this field?
Take notes!!  Find your own method and decorate your desk with wallpaper, montage photos, desk lamps, whatever will make it yours.  Even if it's just pink paper clips, it's important to keep little reminders of what makes you smile….
What is your superpower?
Sarcasm.
That and……..  My daughter made me a cape for my birthday that says, "I'm sober, what's your superpower?"  So I guess I'm lucky enough to wield that against the forces of evil as well!!  Now all I need is that sidekick…  preferably, male…  and cute…   and buff.